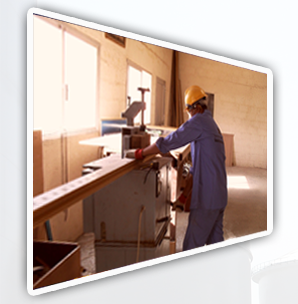 Sands has independent division for Wooden & joinery works, Aluminum works and Painting works, for SANDS Groups . The workshop located in Sajja, Sharjah.
Sands commenced its operations with latest wood working machineries to produce top quality finish to satisfy clients aspiration and on time. The machineries provided are for handling solid and panel processing, spray painting in booths and for wood polishing both clear and stain.
Sands executed number of projects for Factories, Structural Warehouses / Workshops works related to Kitchen cabinets and Aluminum works with all services
We have well trained; skilled craftsmen coupled with effective supervision we can achieve and maintain the best quality of work to ensure always customer satisfaction.
We have specialized team to carry out any size of projects from the luxury villas to any number of buildings.
MAJOR JOBS EXECUTED under Divisions:
P.O.Box -33263
Sajja,Sharjah
U.A.E.

Tel # 06 - 534 8019
Fax # 06 - 534 8019
Mail to:


[email protected]